song & album production
2016 - 2017
Karen Zoid - Op Die Oomblik Deel 1
Parlotones - Antiques and Artefacts
Kahn Morbee - a Noise in the Void
Parlotones - Trinkets Relics and Heirlooms
Dan Patlansky - Intro Vertigo
Rebubliek Van Zoid Afrika Vol 1
Rebubliek Van Zoid Afrika Vol 2
Rebubliek Van Zoid Afrika Vol 3
Bad Peter EP
2014 - 2015
The Archetypes- EP release 2015
Yello Snow - Christmas Carols
Mark Haze - upcoming
Francois Van Coke - Solo Album
Dan Patlansky - Dear Silence Thieves
Van Coke Kartel - Bloed Sweet en Trane
2011 - 2013
Elvis Blue - Journey
Chris Chameleon - Kyk Hoe Lyk Ons Nou
Ard Matthews - Fire(SINGLE)
Mark Haze - Where Angels Fear to Fly
Aking - Red Blooded Years
Van Coke Kartel - Wies Bang
Dan Patlansky - 20 Stones(MIXED)
MCcree - When I was 17(MIXED and PRODUCED)
Prime Circle - Evidence
Parlotones - Journey through the shadows
2010
Parlotones- Live at the Dome
Louise Day
Prime Circle - Jekyll & Hyde
Dave Owens - Solo Album
SGQ
2009
Chris Chameleon - Kyk Hoe lyk ons nou
Aking - Against all odds
Venessa Nolan
Freshlyground- YEYEYE ( song)
Dave Ferguson
Parlotones - Stardust Galaxies
Karen Zoid - 4 songs on "Best of..."
Arno Casrstens - various songs
2008
Dirty Skirts - Daddy don't Disco
Prime Circle - All or Nothing
Fokopolisiekar - Antibiotika
Perez
Prime Cicle - All or Nothing
2007
Parlotones- The world next door to yours
Kobus - Swaarmetaal
Springbok Nude Girls - Peace Breaker
Louise Carver - saved by The moonlight
Flat Stanley - Between two worlds
Van Coke Kartel
2006
Chris Chameleon- Shine
Chris Chameleon - 7de hemel
Flynn - Fields
Velve- Selling Skin
2005
Oran Cohen
Chris Chameleon - Ek herhaal jou
Karen Zoid - Media
Levi CD 4
2004
Hog Hoggidy Hog - Oink
Flat Stanley - Of Secrets and wine
Verity
2003
Kobus! 100% Skuldgevoelvry
2002
Diesel Whores - The fear
Kobus!
2001
The Phoebes - Carwreck Girl
2000
Jimmy 12 - Diaphoraspora
Vanessa Nolan - Burn
Springbok Nude Girls - Relaxor (Co-Producer)
1999
No Friends of Harry - Fly by Night
Springbok Nude Girls - Surpass the Powers (Producer Pre Production)
1998
Springbok Nudegirls - Omnisofa
Springbok Nude Girls - Optimum
1997
Springbok Nude Girls - Afterlifesatisfaction
1996
Lithium - Take out
The Led - Time
Springbok Nude Girls - It became a weapon
Springbok Nude Girls - Be-vest @ iafrica com
1996
Springbok Nude Girls - Neanderthal 1
featured artist
Karen Zoid



Karen Zoid has become an important part of the South African music scene. Since releasing her first solo album, Poles Apart (2002), Zoid has become such an important part of the home grown scene that her name is now the byword for emotionally charged, downright incendiary South African rock music. The press renamed her followers the 'Zoid Generation'.

What's more, through the last decade, Zoid has managed that unusual and frequently tricky feat of balancing popular appeal with critical praise; of securing an audience of both Afrikaans and English speakers; of retaining her individuality in a market known for its desire for sameness. And through it all, Zoid has held onto an enviable integrity that allows her to speak her mind in a way that only earns her more devotees and proved no barrier to being named Best Female Artist at the 2008 South African Music Awards.

Zoid's super-charged rock energy is an ability to write gorgeous, delicately rendered songs that speak of the emotional vortex that drives this exceptional artist to keep creating. 'Zoid Afrika', her latest album shows that Karen Zoid is South Africa's premier female rock artist, full stop. She has shared the staged with international acts like John Mayer, Annie Lennox, Metallica, Simple Plan , Hothouse Flowers, Seal and UB40.

Over a career that has last 10 years, Zoid has earned various accolades (including gold album sales) but she says that what continues to drive her is a deep-seated desire to create music that she can get up on stage and play live. "When I was in that all-girl punk band, or busking or when I am playing to a huge crowd , the feeling I get from delivering my music is still the same - and that's why I do this. All the stuff that goes around making an album - the promo, the interviews, making videos, the artwork … that's work. Playing live? That's what I love."
Dan Patlansky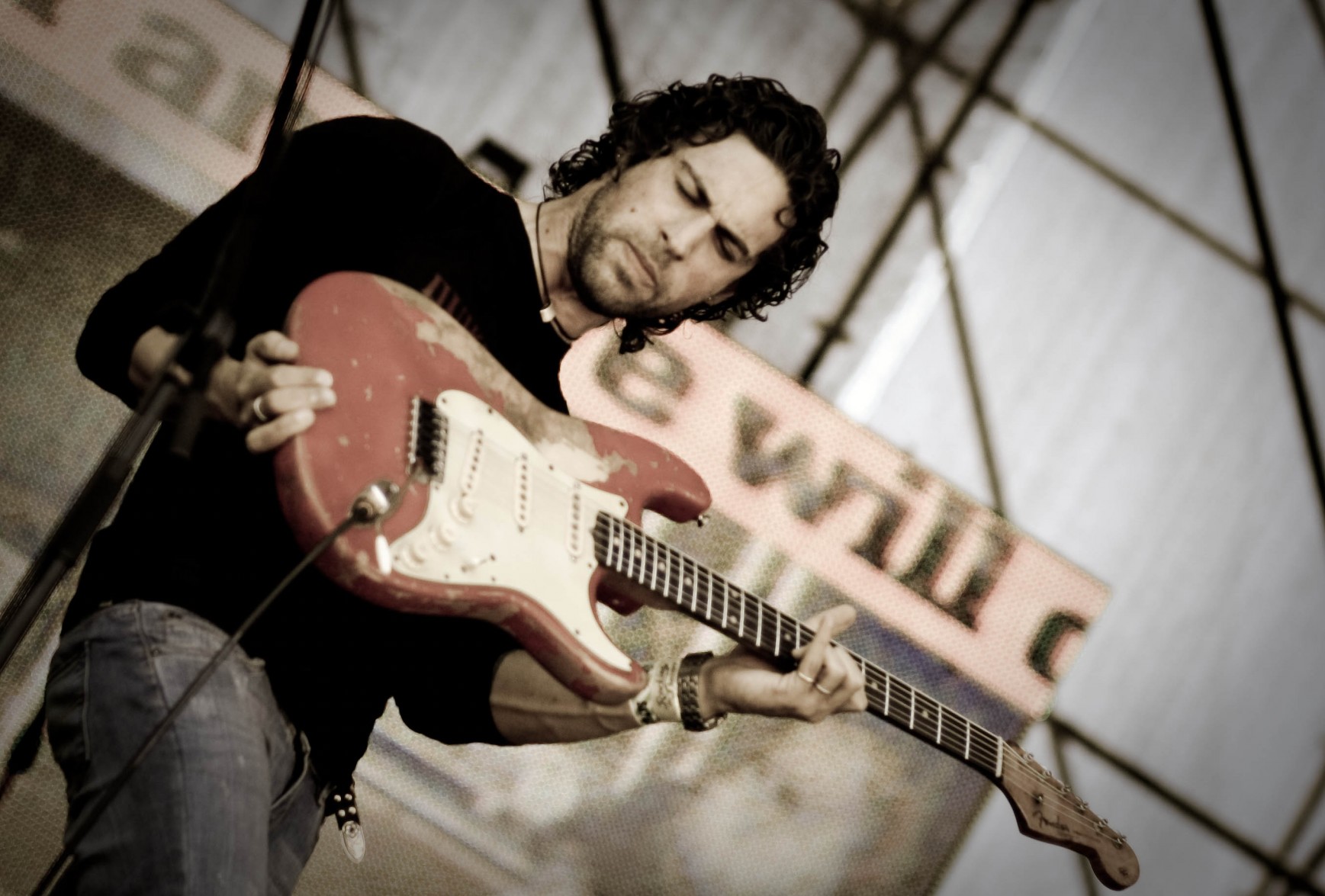 Never far from likeminded genius, guitarist, singer/songwriter and globally respected purveyor of the blues, Dan Patlansky sidles into his second successive decade as one of the world's finest blues-based storytellers of his generation.
Dan started 2014 off with a bang when he was chosen to open for BRUCE SPRINGSTEEN in front of 64 000 people at the FNB Stadium in Johannesburg in February on his High Hopes tour. Dan was personally approved by Springsteen as support act, seeing as Springsteen rarely has guest artists for his shows. Also a milestone for Dan's career when he played in front of the biggest audience he has ever played to.
After touring Europe in 2013 with Everlast, Dan returned to the continent in October 2014 for another tour to promote Dear Silence Thieves internationally. He impressed Norway when he headlined the FJORD BLUES FESTIVAL with words such as 'magic' and 'religious experience' used to describe his performance.
In recording Dear Silence Thieves, Dan was frugal when it came to dishing out meaty middle eights. "Solos on the album are fewer and farther between than on my earlier releases," he declares. "Solos are more of a gift, but when I play these tracks live, my band and I get to lose ourselves in the layers of each new song, and they unravel beautifully and differently every time."
Playing as a three-piece, Dan's tight trio make for impressive listening and watching live. "After a week of fine-tuning the new songs, and a full month in studio with Theo Crous, Dear Silence Thieves is the confident and concise statement that will be heard in Europe, across South Africa, and all the way back to the genesis of Patlansky's passion, the blues. And, as with its maker, Dear Silence Thieves bursts with a bold personality.
Dan will be going on a UK tour in Novermber 2015 with the legendary Joe Satriani to further promote Dear Silence Thieves.
"Dear Silence Thieves is his 7th album and finds him locked in with experienced producer Theo Crous who gives the project an extra pair of ears. The result is a slickly produced, song driven, blues rock album with occasionally funky influences and a melodic pop heart." – Get Ready to Rock
---